About KiwiCo
KiwiCo was built out of a belief in the importance of developing creative confidence. We believe that this confidence helps kids think big and act like creators and producers instead of just consumers. Kids with creative confidence don't assume one "right way" to build with blocks, paint a picture, or solve a problem. Their unique way is the right way!
I had a deep appreciation for the creative, hands-on projects that encourage this kind of thinking, but as a parent, I often found that my best intentions fell short. It was tough to find the time to do the research and come up with a great idea, let alone gather all the materials.
KiwiCo was created to celebrate kids' natural creativity and curiosity, while helping parents who want to bring enriching experiences to their children. We want to make it fun, easy, and delightful for families to spend time building, exploring and creating together. Since its inception, the KiwiCo team has grown. We've added creative designers who dream up the projects, valued experts who review them, and a community of kid testers who keeps us on our toes and ensures the projects are fun and engaging.
We love working on creating new KiwiCo experiences, and we cherish the involvement that our kids have in bringing the product to life. We're excited about the opportunity to help provide these types of experiences for your family to share too.
Happy exploring!
Sandra
Founder & CEO, Mother of 3
& the KiwiCo team!
Advisory Board
Our advisory board includes highly respected experts in education, developmental psychology, art, and science to ensure we're delivering developmentally appropriate and enriching projects.

Jean Lythcott, Ph.D.
Professor of Science Education
Jeannie spent 26 years as a science teacher in four countries and four states, 8 years as professor of science education at Teachers College, Columbia University in New York, and 10 years as a science educator with Stanford University's Teacher Education Program. At Columbia and Stanford, Jeannie taught courses about educating young children into seeing and understanding the world the way science does. Jeannie is a grandmother and an active member of the GaGa Sisterhood, an organization of grandmothers inspiring each other with creative ways to stay connected with their grandchildren.
My mission as teacher, as researcher, as professor has always been to help young, old, and in-betweens to see the world through the spectacles of science newly, to help children uncover the world they see through science, to help people find confidence and joy in explorations via science and so to escape the stifling dogma that is so often science as encountered in schools.

Ira Lit, Ph.D.
Associate Professor of Education
Ira is an Associate Professor in the Stanford University School of Education, where he also serves as the Director of Stanford's Elementary Teacher Education Program. Prior to joining the faculty at Stanford, Ira served as the Executive Director of the Teachers for a New Era initiative at Bank Street College of Education in New York. Ira's research and practice focuses on teacher education, elementary education, educational equity, and the forms and aims of education and schooling. Ira worked previously as an elementary public school teacher in Northern California. He also co-founded, Jefunira Camp, a successful Bay Area summer day camp for preschool and elementary-aged children. Ira's wife is also an elementary school teacher. They have two children, ages 9 and 7.

Rachelle Doorley, Ed.M.
Arts Educator
Rachelle is an arts educator with fifteen years of experience ranging from overseeing school programs at the San Jose Museum of Art to lecturing on Visual Thinking at Stanford. She is inspired by her creative muses, her two daughters, and writes about their creative experiments and art explorations at TinkerLab.com. As Interim Director of Education at SJMA she trained gallery teachers to lead engaging tours and designed interactive gallery experiences for museum visitors, young and old. Prior to her work as an arts educator, she was a costumer with Warner Brothers and Universal Pictures. Rachelle holds a BA in Theater from UCLA and a Masters in Arts Education from the Harvard Graduate School of Education.
Children are naturally curious and creative, and we can support their creative journey by encouraging the free exploration of materials, asking open-ended questions about their discoveries, and exposing them to new ideas that feed their interests. When I facilitate a project with children, I focus on the process rather than the product because generally, this is what children are most passionate about. They care about how art materials interact with one another or making connections between a new discovery and prior knowledge. Kiwi Crate is exciting to me because it also embraces the goals of process-based art making while empowering grown-ups to be great facilitators.
Lisa Medoff, Ph.D.
Child Psychologist
Lisa holds a B.A in psychology from Rice University, an M.S.Ed. in school counseling from the University of Pennsylvania, and a Ph.D. in child and adolescent development from Stanford University. Lisa works with students of all ages, consulting with families and schools to help them provide the optimal home and school environments for their children. She also works with the Cleo Eulau Center, a non-profit organization that supports teachers in high-risk neighborhoods and promotes attention to social and emotional well-being in the school environment. Lisa has taught child & adolescent development and psychology courses to both undergraduates and teacher credential candidates at Stanford University, Santa Clara University, San Jose State University, and Foothill College. Lisa is the author of a weekly child psychology column for the website Education.com.
My mission as a psychologist includes helping families re-discover the joy in spending leisure time together, which builds a strong foundation of mutual trust, as well as teaches children creative approaches to problem-solving and promotes development of a sense of humor, all of which are important aspects of life-long resilience. I am proud to be a part of Kiwi Crate, which shares the same philosophy.

Susan Rodgers, M.LIS.
Children's Librarian
Susan Rodgers is a children's librarian at the Palo Alto City Library. She graduated from the University of Illinois Urbana-Champaign with an M.S. in Library and Information Science, a certificate in Community Informatics, and a B.A. in English and Rhetoric. Susan's work is focused on getting youth to love reading and celebrate the world of literature. Pairing art and reading is a favorite method of Susan's who frequently includes interactive elements in her storytimes at the library. Her favorite children's authors include Jane Yolen, Mo Willems, Dr. Seuss, Madeleine L'Engle, Beverly Cleary, and Cynthia Rylant.
Development Areas
Our projects have been designed to encourage children's healthy development and learning. Developmental appropriateness is important in ensuring that the activities are kid-led and driven, with grownup assistance - not the other way around. We've worked with our advisory board of developmental experts to outline the areas of development that our projects address for kids ages 4-8.

Low: With projects that are low on the messiness meter, you probably don't even need to wash your hands. Examples: pencil drawings, cutting fabric shapes.
Medium: Be ready to wash your hands. If liquid is involved, we mark the project at least medium. Examples: stamping with paint, blowing bubbles.
High: Watch out for your workspace and/or clothing. Protect or be prepared. Examples: paper mache, some chemistry in action.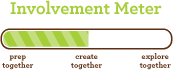 Prep Together: Get the project and your materials ready with a grownup.
Create Together: Work on the project with a grownup.
Explore Together: With what you've created, play and discover with a grownup or friend.

Creating
Children explore and learn about the world through creative exploration and imaginative play. Projects with this icon were developed to spark this creativity and imagination. The expression could be through art, music, dance, and imaginative play. Examples include painting with sponges and acting like an animal.

Discovering
Discovering activities pique kids' natural curiosity about the world and promote problem solving: they invent and test to learn. Projects with this icon include investigation and learning about science, nature, and mathematics. They encourage questions like why is the moon a circle tonight and a crescent another and recognizing the pattern of stripes on a bumble bee.

Moving - Gross
Encouraging physical development and health tees up ongoing fitness and well-being. Projects with this icon involve big or little motions. Gross motor skills control the large muscles and movement – like galloping like a horse and playing hopscotch.

Exploring
Kids develop an appreciation of the world around them, as well as their role in their community. Through projects with the Exploring icon, kids learn about cultures, community, and diversity. These might include understanding what a policeman does, how children overseas celebrate different holidays, or who is in their extended family.

Communicating
Language development includes the ability to both understand and use language – by reading, listening, speaking, writing. The Communicating icon identifies projects that are focused on these literary skills. Examples include: recounting their vacation, following directions for a project, and reading traffic signs.

Caring
Developing self-awareness, expressing feelings, and respecting others build confidence and positive interactions and are important skills for kids. These projects focus on interactions with others. Examples would include taking turns playing a game and asking politely for help with a project.

Moving - Fine
Many tasks - from writing and eating to dressing and cutting - involve the fingers and hands. Projects with the Moving - Fine icon involve the little motions to encourage this development. Fine motor skills generally refer to these small movements of the hand which enable actions like twisting a cap and picking up pebbles.